A smile is so simple and yet so precious.
A smile is a gift.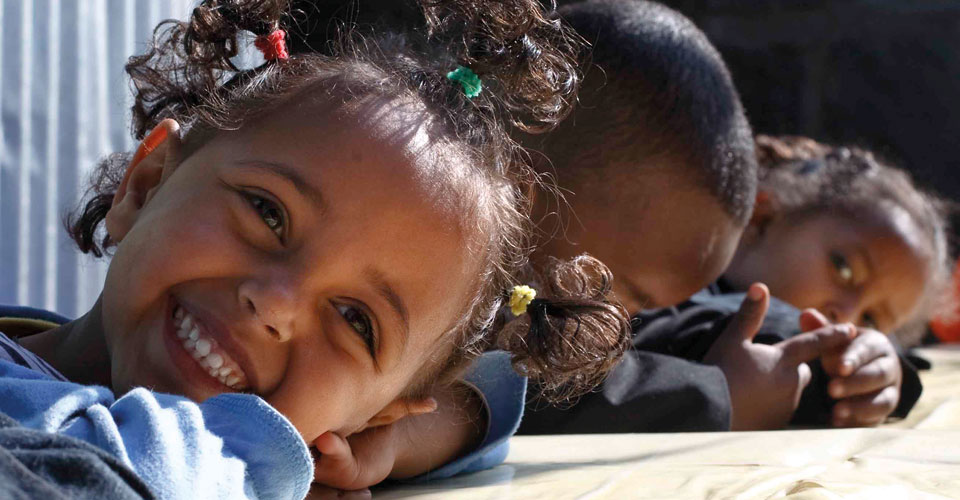 A smile can completely change the atmosphere in a room.
He who sows a smile receives back a lot more.
A smile is a gift.
...but a joyful smile is also very fragile.
Ethiopia Arise e.V.
A huge goal for a yet small organization
The emblem of Ethiopia Arise symbolizes through the upturned arrow and the coalescence of the colors of the German and the Ethiopian ensigns that the aim of the organization is to help Ethiopia to arise.
To be able to arise, the weakest of the society need the best help.
Therefore Ethiopia Arise is trying as good as possible to support poor families, old people and especially children and their single mothers, who have to beg at the streets.
The leaders of the care center in Addis Ababa Ruth Kemere-Betz (Ethiopia) and her German husband Klaus Betz have been representing the multifarious partnership between Ethiopia and Germany since 2008.
Thank you to all who trusted in us, supported us and helped us to grow steadily.

In remembrance of Ruth Kemere Betz
"It was with our deepest sorrow that we said goodbye to my beloved wife Ruth on November 26th, 2018 after a long illness.
She has gone home to be with her heavenly father. Deeply saddened, but also with a heartfelt Hallelujah, we released her into the hands of God, who is the lover of our souls, and into an eternal home prepared by Him.
She lived for Christ, therefore to die is her gain. She left us too soon. Many earnest prayers are left unanswered, but in the end what matters is the blessings one leaves behind rather than the number of days spent on this earth. As her husband, I had the privilege of seeing the many lives she uniquely touched and inspired…
You are invited to write your condolences and remembrances of Ruth, preferably in English or German, but Amharic is also acceptable. Please sign off with your first and last name as well as your place of residence:

Our vision is to give needy Ethiopian children and their parents who live in extreme poverty, the opportunity for a comprehensive change, so that they can live a happier life with Christian values and awareness for honesty, love and responsibility.
Edelawit and Wondeye are a good example: