A smile is so simple and yet so precious.
A smile is a gift.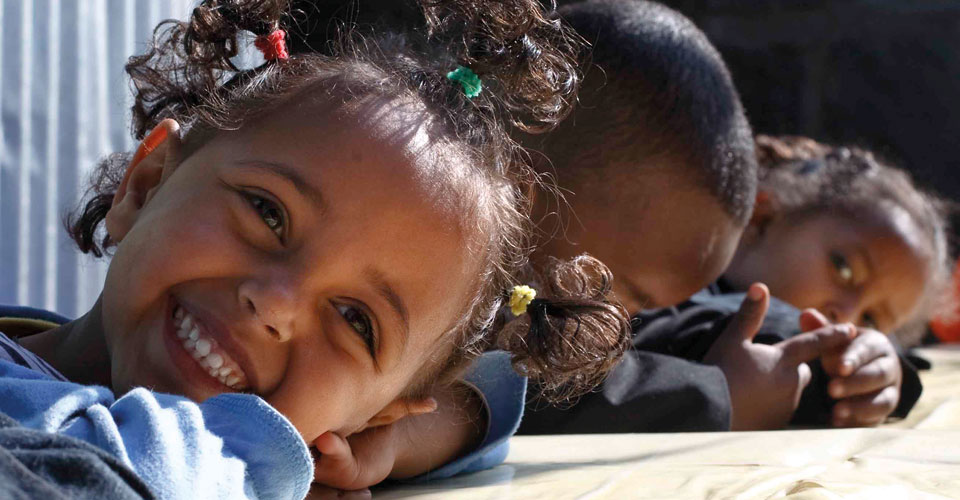 A smile can completely change the atmosphere in a room.
He who sows a smile receives back a lot more.
A smile is a gift.
...but a joyful smile is also very fragile.
Ethiopia Arise e.V.
A huge goal for a yet small organization
The emblem of Ethiopia Arise symbolizes through the upturned arrow and the coalescence of the colors of the German and the Ethiopian ensigns that the aim of the organization is to help Ethiopia to arise.
To be able to arise, the weakest of the society need the best help.
Therefore Ethiopia Arise is trying as good as possible to support poor families, old people and especially children and their single mothers, who have to beg at the streets.
The multifarious partnership between Ethiopia and Germany was displayed and experienced through my first wife Ruth Betz until her death in 2018
and now with my new wife Elsabet Lema since 07 June 2020.
Thank you to all who trusted in us, supported us and helped us to continue giving hope and help in Ethiopia since 2008.
Ethioia Arise on social media:
Some activities of Ethiopia Arise are shown on the correspoding FaceBook and YouTube pages.
Report On IGA-Project —-Date 20/9/2022
Yeshiwork, Bethelihem Atnafu's Mother
Yeshiwork was given 10,000.00 birr as a startup capital and first she began making Baltina at her house, because she is living in a kebele house it is convenient for her to do the business.
She was in the organization's special family support service because she is living with HIV virus and a single mother providing four children. She was given 600.00 birr on monthly bases but now she is out of that support and showing a great progress on her business.
By now, she has bought bread oven and is baking bread for sell, additionally making handmade traditional plates for different use and has saved 9,134.57 birr in her account.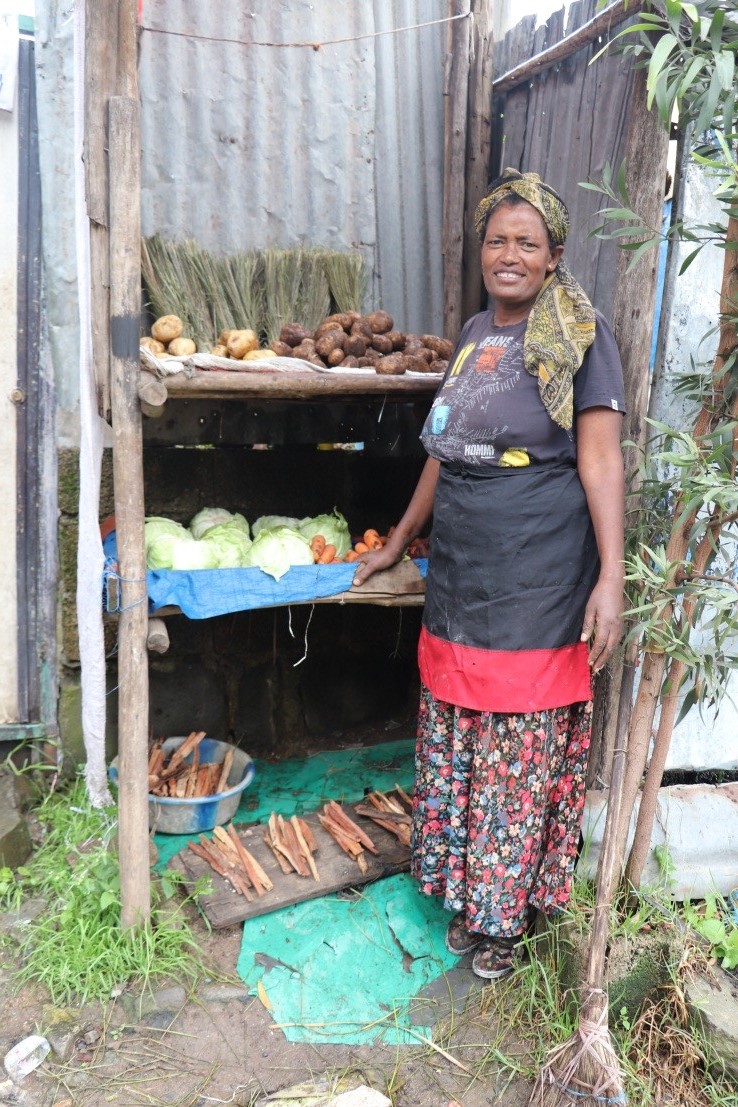 Worknesh , Bezawit Teshome's Aunt
Worknesh is a single mother providing for her two children, one her son and the other her sister's daughter Beza. She received the startup money in the current project season.
Before she was a janitor but during Covid epidemic she was reduced from work and became unemployed.
Making in Enjera for sell is the activity she engaged at first, she lives in a kebele house and she has a separate kitchen to use traditional Enjera stove.
At preset she has also began selling vegetables outside of her house. Worknesh is very courageous, hardworking and showing a fast change.
Etalem, Biruk Daniel's Mother
 She lives in private rented house with her husband and two children, and got the working place from the government. She sells coffee, tea, boiled potato and vegetables, coffee ceremony grass, bottled water etc
Before she was petty trader selling few vegetables on the street, which was illegal. After receiving the startup money three months ago; she fixed the place, bought all the necessary materials needed and began the sell within a few days. Etalem is very courageous, strong women and with a bright future in changing her family economic condition.
Megersa, Biftu and Birhanu's Father
Megersa is the father of three. His wife and he strive a lot to raise their kids. They were given 10,000.00 birr to begin a hen farm but it was not successful as they expected it as a result they changed their business to selling of Hive body.
It is produce in Ambo and they sell it here in Adiss Ababa for urban farmers. In addition, they also bread goat and sheep and sell it on holydays.
They have saved 4,634.86 birr in their saving account and working well to the progress of their business.
Mekdes, Dagim Mengistu's Mother
She was one of the mothers who took the seed money in the past project period. She was given 5,745.00 and has saved 2,600.00 in her account.
She is a single mother providing three children. The enjera making business is going well with her. She sells at her home and also receives order from shops.
She has built a traditional kitchen with corrugated iron, before it was without wall and was not convenient. She has a plan to buy a bread oven and to begin selling bread also.
Hiwot, Dagim Tatek's Mother
Hiwot is a hard working women, she produce plastic show rack and also work as a janitor in a private office.
It was in the last project period Hiwot was given seed money to buy the sewing machine and all the materials needed for the work.
She was given 4090.00 birr and has saved 1000.00 birr. Hiwot has also bout a small shop which was prepared by the government office (kebele). But because the license is for printing and photocopy service she rented it.
Worke, Hana Tefera's Mother
Worke is a single mother living in a private rented house with her only daughter. She uses to wash cloths as a means of earning income before getting the startup capital from Ethiopia Arise.
Now, by the money she has bought chips maker and she is arranging electric power to begin the work. She has also got a place to sell vegetable and she is working on that.
Yeshi, Kalkidan Habtamu's mother
Yeshi is a very strong and hard working woman. She is a single mother and provides for three of her children.
This place was given by the government (kebele) and she sells vegetable and sugar. The place is in the road side and she has a good market.
She took 6000.00 birr from Ethiopia Arise before three months ago and she has saved 756.00 birr to her account by now.
Selamawit, Liuel and Yeabsira's Mother
Selamawit works in the place she got from the government. She use to sell pajamas before but changed to selling sandals because of the demand.
Selamawit was given the seed money during the last project period. She was given 5460.00 birr as a startup and has saved 2847.01  birr at present.
She is the mother of two and they live in a private rented house. She covers the house rent payment and her children basic need.
Getenesh, Tewodros Mare's Mother
She sells plastic kitchen materials on the place where the kebele gave her. It is in the road side and the market is good. The first business was children cloth sells but it was not profitable so they shifted to the current sells.
She was not working for the past three months because of maternity. During the time her husband was working and they are saving also.
Getenesh is the mother of three and they live in a private rented house. Her husband is a guard and he supports her during the day time.
Yehualashet Zinash Mulat's Mother
Yehualashet sells coffee, tea and water. She got the working place from the government.
She got the startup money from Ethiopia Arise and makes the shelter and all the necessary materials for the business.
She is saving and working well. She lives with her child and husband and she is the only bread winner of the family because her husband is an addict and he is not working at all.
Conclusion 
The total number of parents in the IGA program is twenty one and nineteen of them are actively working. Two parents from the program are not working at present, one she has an eye problem before three months and the other her place of work that she received from the kebele denied. This report contains twelve parents present condition because of time and location constraint.