A smile is so simple and yet so precious.
A smile is a gift.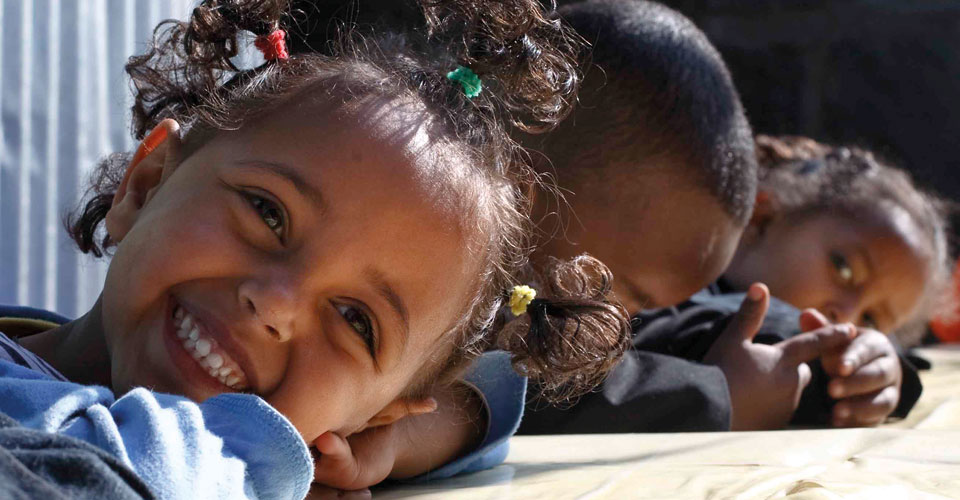 A smile can completely change the atmosphere in a room.
He who sows a smile receives back a lot more.
A smile is a gift.
...but a joyful smile is also very fragile.
Ethiopia Arise e.V.
A huge goal for a yet small organization
The emblem of Ethiopia Arise symbolizes through the upturned arrow and the coalescence of the colors of the German and the Ethiopian ensigns that the aim of the organization is to help Ethiopia to arise.
To be able to arise, the weakest of the society need the best help.
Therefore Ethiopia Arise is trying as good as possible to support poor families, old people and especially children and their single mothers, who have to beg at the streets.
The multifarious partnership between Ethiopia and Germany was displayed and experienced through my first wife Ruth Betz until her death in 2018
and now with my new wife Elsabet Lema since 07 June 2020.
Thank you to all who trusted in us, supported us and helped us to continue giving hope and help in Ethiopia since 2008.
Ethioia Arise on social media:
Some activities of Ethiopia Arise are shown on the correspoding FaceBook and YouTube pages.
Ethiopia Arise e.V. distributes food in the corona pandemic.
Since the beginning of the corona pandemic, neither schools, kindergartens, aid facilities nor aid projects such as Ethiopia Arise e.V. have been allowed to continue their work with children and mothers in larger groups.
Due to government restrictions and fears of a corona outbreak, many of our mothers lost all or part of their jobs. In order not to leave the mothers and children alone in their great need, we spontaneously decided to provide emergency aid by organizing food aid. The first 140 packages were distributed in March. Since then, we have regularly provided the mothers with food parcels on a monthly basis. A total of about 980 packages were given away and it was nice to see the burden we were able to relieve the mothers.
Thank you for the extra donations, without which we would not have been able to help to this extent and make people very happy.
Although the children could not come to our property, the fixed expenses remained almost the same, so that we are still dependent on additional donations.
Thank you and sends warm regards
Your Ethiopia Arise Team
Klaus Betz
Ethiopia Arise e.V.
Chairman
10 years Ethiopia Arise e.V
Donation account: Ethiopia Arise e.V.
Iban: DE36100100100577845103
BIC: PBNKDEFF